The eBags Brand: 2020 Review & Rating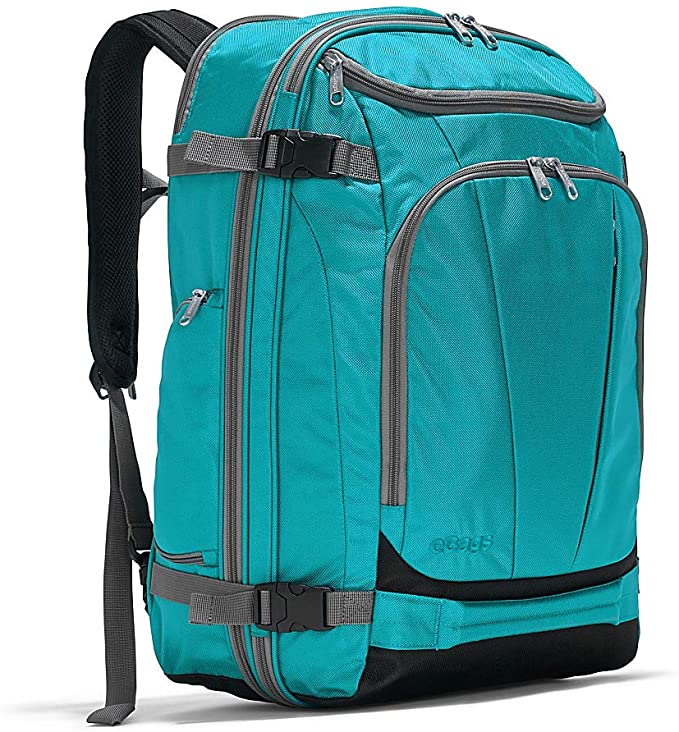 THE EBAGS BRAND: 2020 REVIEW & RATING
The eBags Brand is the label from the eBags retailer based in Greenwood Village, Colorado, that produces travel luggage and accessories.
We have reviewed the best products from eBags and found their collection of backpacks, especially made for professionals who need to carry their laptop and tablet everywhere. But there are also carry-on suitcases to consider, with some advanced features and carefully designed interiors for a perfect organization when traveling.
Here is our list of eBags best backpacks and suitcases to consider. Check it out!
Model
Best price
TLS Companion Lightweight Duffel Bag
Best carry-on luggage
Mother Lode 22" Carry-On Roller
Best backpack
Professional Slim Junior Laptop Backpack
Dimensions
6.5 x 16.5 x 12.75 inches
Preview



Best price
Model
TLS Companion Lightweight Duffel Bag
Preview

Best carry-on luggage
Model
Mother Lode 22" Carry-On Roller
Preview

Best backpack
Model
Professional Slim Junior Laptop Backpack
Dimensions
6.5 x 16.5 x 12.75 inches
Preview

Pro Slim Leather Laptop Backpack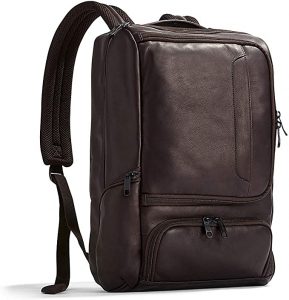 8.5 x 18 x 12.75 inches
Made all of full-grain leather, brown or black, with a minimalist style
Fits a 17″ laptop, has a fleece-lined tablet pocket and another compartment for the power supply
Features a pass-thru sleeve to slide it over your carry-on luggage handle
See Luggage
Pro Slim Leather Laptop Backpack
The eBags Brand: 2020 Review & Rating
back to menu ↑
Mother Lode Rolling Travel Backpack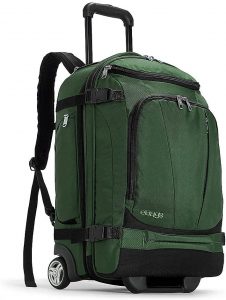 22 x 14 x 9 inches
Expandable and convertible from backpack to rolling luggage
Many pockets, including a zippered and mesh one inside and a new zip-away water bottle pocket
Available in army green, black, eggplant, brushed indigo, eggplant, garnet, navy and graphite
See Luggage
Mother Lode Rolling Travel Backpack
The eBags Brand: 2020 Review & Rating
back to menu ↑
Professional Flight Laptop Backpack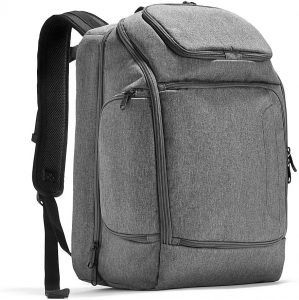 8 x 17.5 x 12.75 inches
Made from durable twisted polyester fabric
Suitable for a 15.6″ laptop, with a padded compartment with TSA-friendly scan opening
Perfect organization thanks to its zippered mesh pockets, pen sleeves, and open pockets for small items
See Luggage
Professional Flight Laptop Backpack
The eBags Brand: 2020 Review & Rating
back to menu ↑
Kalya Underseat Carry-on 2.0 with USB Port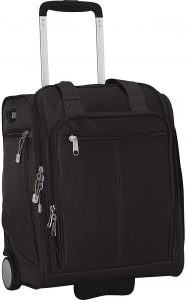 9.00 x 17.00 x 13.75 inches
Features an USB outlet that connects from the exterior to any power supply
Front pocket has a divider, a key leash, a padded pocked for small devices and a zippered mesh one for small items
Made from durable and resistant nylon and polyester fabrics
See Luggage
Kalya Underseat Carry-on 2.0 with USB Port
The eBags Brand: 2020 Review & Rating
back to menu ↑
Fortis Pro USB Carry-On Spinner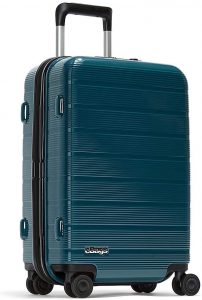 9 x 22 x 14 inches
Expandable up to 1.5″ for some extra capacity
Luxury interior with a portable battery pocket, a compression strap with built-in packing cubes, and a removable divider
Available in black, blue, red, ocean blue, and rose gold
See Luggage
Fortis Pro USB Carry-On Spinner
The eBags Brand: 2020 Review & Rating
back to menu ↑
Professional Slim Junior Laptop Backpack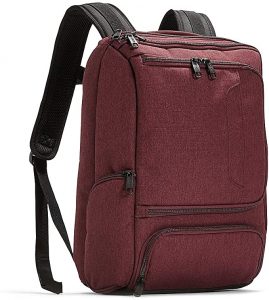 6.5 x 16.5 x 12.75 inches
Made of 840D and 900D twisted dobby fabric
With a padded sleeve that fits up to 15″ laptops and a fleece lined padded sleeve for a tablet
Available in garnet, sage green, brushed indigo, true navy and heathered graphite
See Luggage
Pro Slim Leather Laptop Backpack
The eBags Brand: 2020 Review & Rating
back to menu ↑
Mother Lode 22″ Carry-On Roller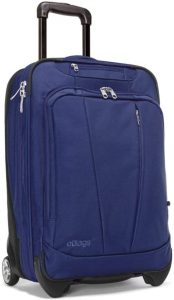 9 x 22 x 14 inches
Made of twisted polyester fabric with a compression-molded EVA bottom
Features tie-down straps inside and a lid compartment with a zippered mesh panel
Available in solid black, true navy, sage green, heathered graphite, and eggplant
See Luggage
Mother Lode 22
The eBags Brand: 2020 Review & Rating
back to menu ↑
TLS Companion Lightweight Duffel Bag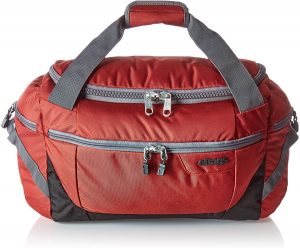 11 x 19 x 11 inches
Includes a lifetime warranty against defects in materials and workmanship
Many pockets with heavy-duty lockable zippers and a fully lined interior with a mesh pocket
Made of 900D twisted polyester and available in many colors
See Luggage
TLS Companion Lightweight Duffel Bag
The eBags Brand: 2020 Review & Rating
back to menu ↑
eTech 3.0 Backpack With Expandable Sides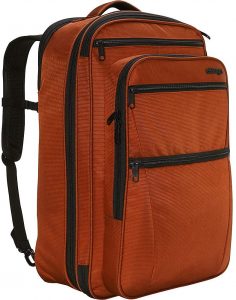 8 x 21 x 14 inches
Clamshell opening with the same capacity as a wheeled carry-on suitcase and expandable up to 1.5″
Features a separate padded pocket that can hold up to a 17″ laptop
Available in burnt orange, crimson red, olive green, and sapphire blue
See Luggage
eTech 3.0 Backpack With Expandable Sides
The eBags Brand: 2020 Review & Rating
back to menu ↑
TLS Hybrid (Hardside/Softside) Expandable Spinner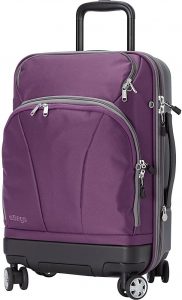 9 x 22 x 14 inches
Expandable up to 1.25″ for some extra capacity
Features 8 360º dual-spinner wheels
With a front cargo pocket plus a top pocket with a built-in lock on the zipper and zippered mesh pockets inside for small items
See Luggage
TLS Hybrid (Hardside/Softside) Expandable Spinner
The eBags Brand: 2020 Review & Rating