MONARC Duffel-Backpack & Accessories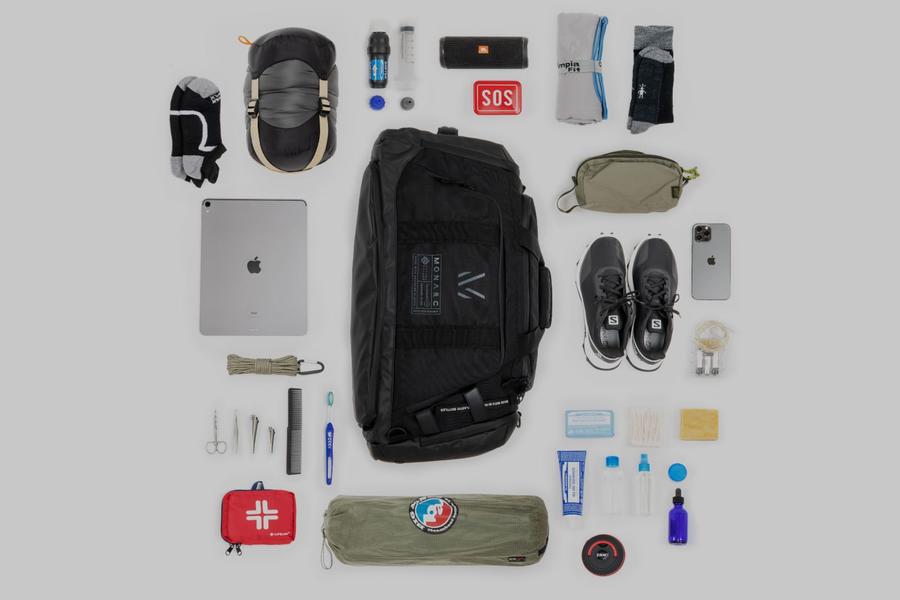 MONARC Duffel-Backpack & Accessories
Today we would like to introduce you to USA's 1st Certified Plastic Negative Bag Company, from Idaho: Monarc.
The products made by this company come from recycled plastic bottles. The result is a water and weather resistant Global Recycle Standard RPET fabric that will make your luggage last for ages. This process goes this way: plastic bottles are cleaned and sorted, so then can be shredded and transformed into pellets. These will be as well stretched and transformed into thread and fabric: the one used to produce Monarc 's Settra Series.
Besides the quality of their products, Monarc offers some other premium services that you will not find in other brands. A lifetime warranty in all their products, a free shipping or a 30-day return policy in case you are not convinced are just some of them.
If you are looking for some sustainable luggage with all the quality and guarantees, please have a look at the Settra Series by Monarc that you will find below.
The Settra Duffel Backpack
Monarc's flagship product is this versatile duffel and backpack that converts from one to another in just a few seconds.
With a capacity of 40 liters and dimensions of 24″ x 13″ x 11″, this duffel is TSA approved as a piece of carry-on luggage, which makes it perfect for any weekend getaway or business trip. Some of its features are the ventilated (and removable) shoe compartment, the 17" laptop pocket, or the locking zippers that will give you extra security.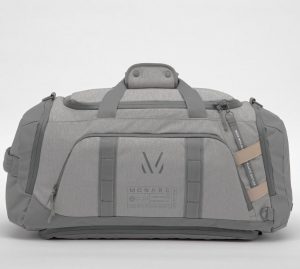 Whenever you need to use it as a backpack, the removable and adjustable sternum and waist straps will fit your body perfectly so you can walk for miles. Plus, the airmesh ventilation system on the back is made to give you all the comfort for long hours.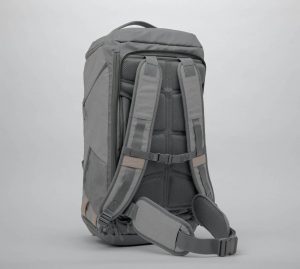 Monarc's uses 50 recycled bottles for the elaboration of each of this duffel-backpacks, guaranteeing you a resistant and waterproof  fabric that will endure all adversities. You can also choose among this light gray color or an elegant black.
Get yours now and choose between a one-time payment or split it into 4 interest-free payments. And do not forget the company's free shipping service and its 30-day return policy!
See Luggage
The Settra Duffel Backpack
MONARC Duffel-Backpack & Accessories
back to menu ↑
The Settra Tech Pack
A small pack to keep all your technical gear and small items organized and in place, wherever you go. Made from 8 plastic recycled bottles, the result is this water and weather resistant pack with space even for an iPad Mini or Nintendo Switch.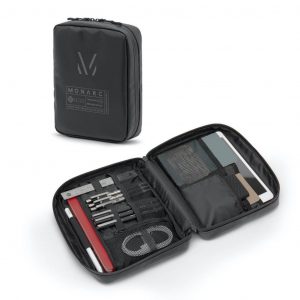 Its dimensions: 9″ x 7″ x 1.5″ that can fit a lot of things in. A lightweight pack of 0,52 lbs that you can take anywhere or add to your duffel to maximize space and keep everything at hand. Pens, credit and debit cards, chargers, and important documents always safe and where they should be.
See Luggage
The Settra Tech Pack
MONARC Duffel-Backpack & Accessories
back to menu ↑
The Settra Camera Cube
Monarc has also taken into consideration photography lovers. That is why the have designed a piece of luggage specially made to keep your camera and accessories protected against external threats. This is the result of using 13 recycled plastic bottles, obtaining a water resistant fabric that will give you some piece of mind when it comes to your expensive photography set.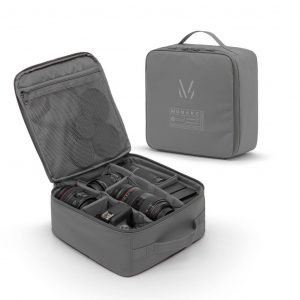 Its square shape, whose dimensions are 10″ x 10″ x 4,25″, makes it perfectly suitable to fit into the duffel backpack. Plus, the internal adjustable dividers will keep everything in its place while you carry your bag with its top hand strap. And do not forget that you are given a 30-day return policy, so just try it now and decide later!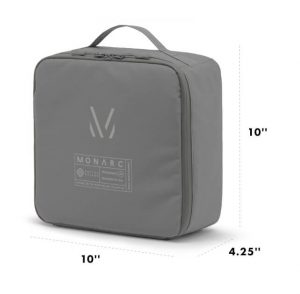 See Luggage
The Settra Camera Cube
MONARC Duffel-Backpack & Accessories
back to menu ↑
The Settra Travel Set
A set that will help you take the most of the available space on your luggage is this one made of water resistant fabric. Pack for up to 7 days thanks to the compressed storage offered by these zipped bags that can fit in any suitcase, duffle or backpack. Keep your dirty clothes separate from the clean ones and always in perfect conditions.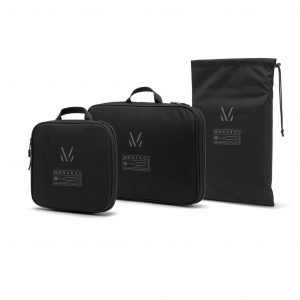 Choose between a grey or a black set and  a one-time payment or 4 payments without interest or late fees. Plus you will get free shipping and Monarc's 30-day return policy so you can change your mind without compromise.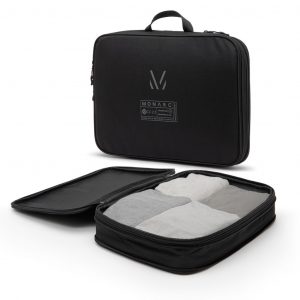 See Luggage
The Settra Travel Set
MONARC Duffel-Backpack & Accessories
back to menu ↑
The Settra Series
Our final suggestion is the whole Settra set. Save some extra money and recycle 100 plastic bottles, getting a whole pack of luggage and accessories. All pieces are water and weather resistant, made of sustainable RPET fabric, and with a lifetime warranty.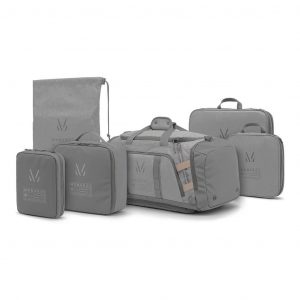 The whole set includes:
A 40l capacity duffel backpack
A camera and accessories cube
A tech pack
A large compression pack
A medium compression pack
A laundry bag
See Luggage
The Settra Series
MONARC Duffel-Backpack & Accessories