The perfect pack list for a camping trip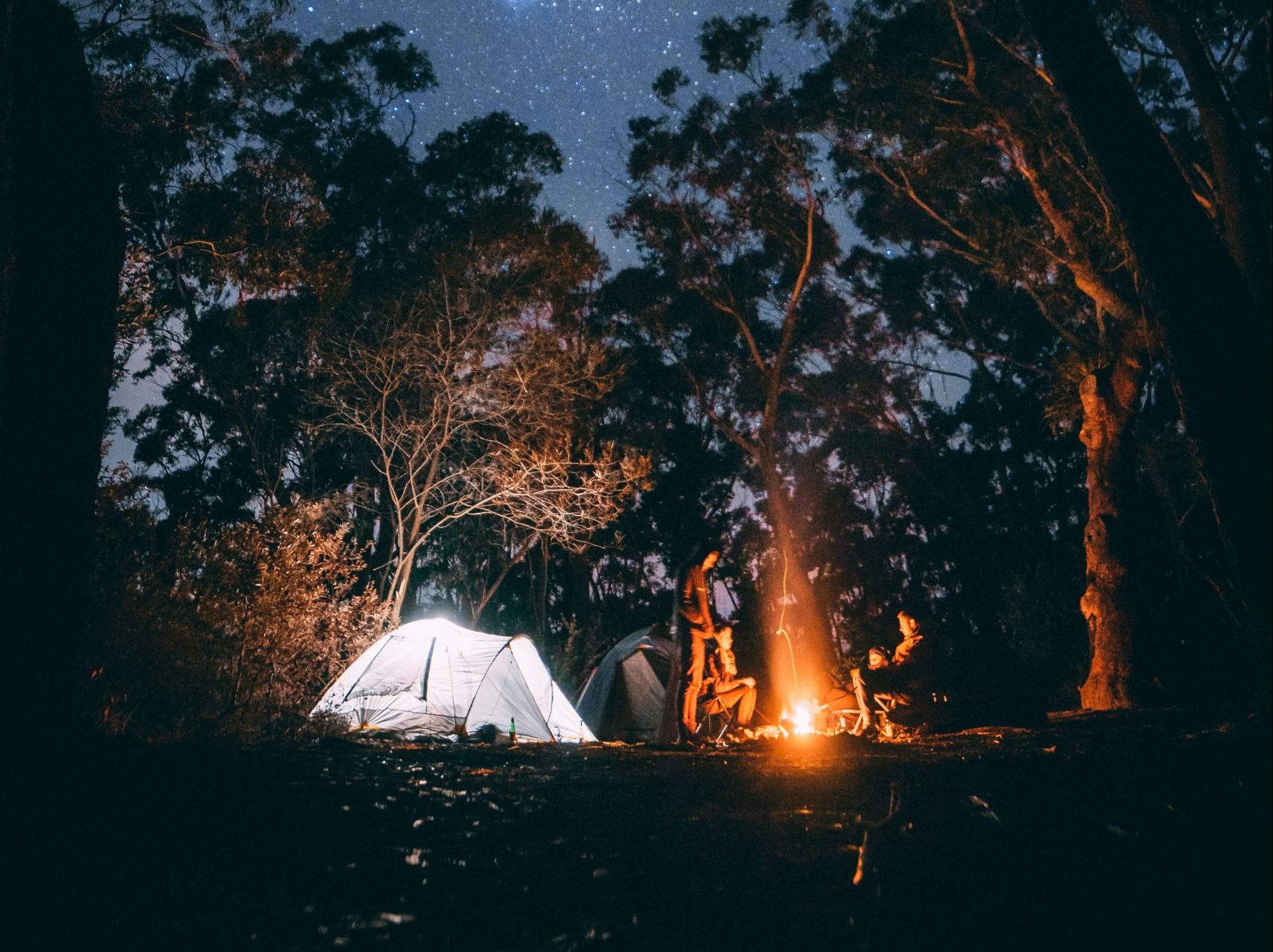 Camping is about disconnect from your daily boring routine, but this does not mean you should not prepare a list of items to spend some time in the wilderness.
From the perfect tent, to those essential gadgets you will need during your outdoors getaway, we have made a list of those things that will help you taking the most of this experience, whether you want to enjoy it by yourself or with some company.
Start packing with our list of essential items for your camping trip!
1. A comfortable camping chair
You will need a chair to stay comfortable during the day on your camping getaway, so what best than a portable chair with a built-in cooler for your cans?
Available in red, black, and blue, this chair is made of polyester with a resistant steel frame. You can spend hours enjoying the landscape, as it has a fully cushioned seat and back. Besides, you will have everything at hand, thanks to its side pockets and mesh cup holder. You won't need to stand up to pick up anything!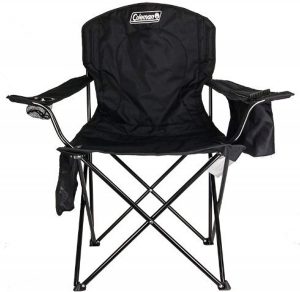 2. A sleeping bag for almost all seasons
When choosing your sleeping bag, you must consider one that can be suitable both for cold and warmer weather. It should also be lightweight and easy to carry, and as some personal advice: we love it when the zipper can be unzipped at the bottom so you can keep your feet fresh and cool!
We have found in Oaskys the perfect sleeping bag. The exterior material used is 210T anti-tearing polyester fabric which, besides resistant, is waterproof and breathable. The fill material is 100% hollow cotton, for a perfect rest and sleep, while the lining material used is 190T polyester pongee.
It is also available in three different sizes, for one or two people, and in many different colors,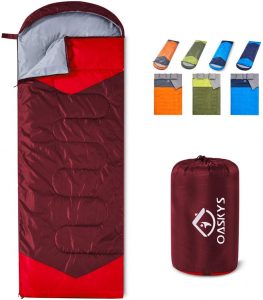 3. A sleeping mat for a perfect support when resting
Sturdy and comfortable, a sleeping mat will help you sleeping in the perfect position almost anywhere. Specially if you have one like this, made of strong, waterproof ripstop nylon fabric with 2″ of thickness.
This sleeping pad is easy to carry, as it can be folded and packed down to the size of a bottle water. When inflated, it will help you rest even on rocky surfaces, thanks to its rip and abrasion resistant nylon material.
If you are still not sure of the quality of this sleeping mat, the brand's lifetime warranty will clear all your doubts.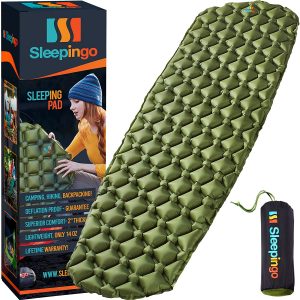 4. A lightweight but resistant backpack for hiking
A backpack will be essential for your camping trip, and this must be water and tear resistant, plus lightweight.
Our choice is the Venture Pal backpack, available in several colors and with extra features such as the adjustable buckles and a double-layer bottom piece for some extra strength. Plus, it will be very comfortable to carry as it has breathable mesh shoulder straps with sponge padding. You will be able carry all your items easily on this roomy backpack with a 35-liters capacity.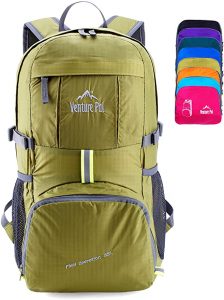 5. A couple of portable lanterns for those long nights
With a battery life of 90 hours (3 AA, included with your purchase), these lanterns have a collapsible design to save some extra space and reduce or increase the light of its 30 LEDs, depending on your needs.
The best thing about them is that they are made with military-grade materials, which makes them resistant and 10-foot drop waterproof. And if you do not believe it, there is a lifetime warranty that will give you some peace of mind on your purchase.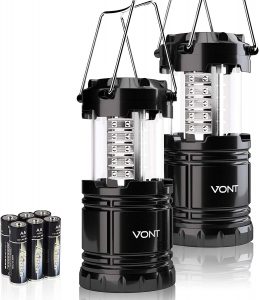 6. A gas stove for a perfect camping meal
A gas stove like this one with 2 burners and a grilling power of 20,000 BTUs is the perfect accessory, not only for a camping weekend, but it can also help you in case of a blackout at home.
When used in an open, exterior space, the side panels will help you keep the burners on despite of the wind, no matter the size of the pan used. When you are done, just let it cool and pack it up: it is very compact, saving you a lot of space.
Finally, it comes with a 3-year limited warranty.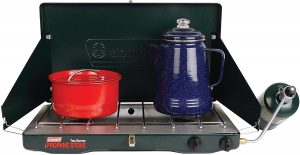 7. A wood burning stove to avoid using gas
If you do not want to use propane during your camping escape, a wood stove is the perfect environmentally friendly alternative to cook your meals outside (or have a romantic night out). With this stove, made of high quality stainless steel, you will just need some leaves and branches to have the perfect fuel to burn your fire.
What we like the most about this wood stove is that it features a 3-arm pot support to give stability to the stove and distribute the heat perfectly. Plus, it includes a grill grid if you feel like having a small BBQ and its own mesh carry bag, so you can fold it and carry it easily when you are done.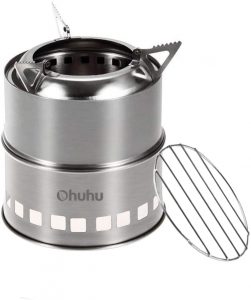 8. A portable power station for all your digital devices
Let's be honest: besides enjoying the nature and beautiful landscapes, you may want to use your mobile devices and tablet or laptop while you are camping.
A portable power station will help. This rechargeable lithium battery generator for instance will produce eco-friendly battery power, and it can work as an emergency backup power source in case of blackout at home. You can charge your small electronic devices such as smartphones, tablets, a camera, laptop, or even a mini fridge.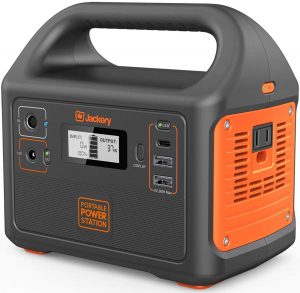 9. A comfortable tent (what else?)
So, if you are planning a camping trip, you cannot miss your tent. Coleman offers this model, tested against wind and rain, that features a WeatherTec system, so you and your belongings will stay dry, despite of the weather outside.
It is available in green or navy/gray and in different sizes: from 2 to 6 people. Its large windows and ground vent will provide the needed airflow so it won't feel stuffy. A perfect choice for a whole family who wants to spend some time having fun outside together.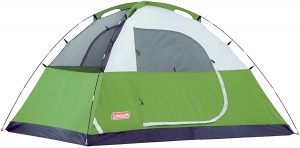 10. A first aid kit for possible emergencies
You will be outside and, well, things happen, so you cannot forget a compact first aid kit.
With more than 37 different items, such as different size bandages, a CPR mask, a sewing kit, an emergency blanket, an instant ice pack, or an emergency glow stick, this kit will give you some peace of mind, specially if you have kids. Besides, it comes with a 18-page first aid guide to help you in many potential emergency situations.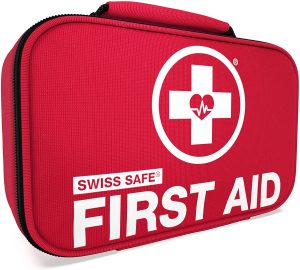 11. A multitool to solve any problem in the wilderness
A multitool is a functional item not only for camping, but for any experience you may like to enjoy in the outside.
We have found this option, compact and easy to carry, with 14 different tools such as a small axe, a hammer, a knife blade, a wire cutter… All together in a stainless steel one with a resistant black oxide finish.
Besides, it comes with a reinforced nylon pouch that covers the blade completely, so you can carry the tool safely on your belt.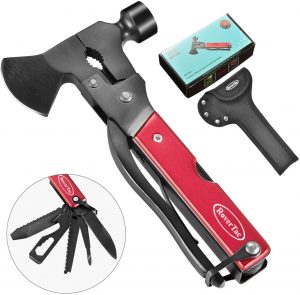 12. A pair of bunked cots to save tent space
The perfect gadget for families with kids is this mobile sleep solution, made of a steel frame and 600D polyester, that will help with tent organization, saving some extra space.
You can use it together, separately as two individual beds or even put them together forming a comfortable sitting bench. All parts can be easily packed in two zippered, carry bags included that kids can take anywhere by themselves. It is available in different colors such as black, red, navy, or teal blue.